Contact
elfstonepress (at) gmail (dot) com
Cell: 902-326-5019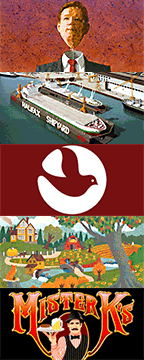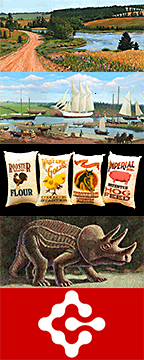 "The first day of teaching any new students, I tell them to call me Michael, not Professor Shumate or Mr. Shumate. Then I tell them if they forget my name, they can always call me Grand Poobah. That always gets a laugh from them. It establishes a rapport with my students. They know that even though I have much to teach them, I don't take myself too seriously. Their respect for me will be earned and ego games are not something we'll be playing."
That's how Michael teaches. That's how he speaks.
Michael's artistic experience and proficiency is unusually broad. As one might expect from his book, Logo Theory, Michael is Professor Emeritus of St. Lawrence College in Kingston, Ontario, where he taught illustration and graphic design for 25 years. The subjects he taught include Color Theory, Beginning, Intermediate and Advanced Illustration including Computer Illustration, Art History and Branding Design.
Besides all that, he is the son of an artist and a musician, husband to a music teacher, and father to more musicians, a writer, a fine woodworker, a photographer and two more who studied filmmaking at university.
Beside teaching, for over 50 years Michael has been a graphic designer and commercial illustrator, a conceptualizer and writer, organizer and motivator.
For the seven years before teaching, he was Senior Designer/Illustrator for a mid-sized design studio and advertising agency. Michael's design experience extends to all areas of graphic design including advertising, corporate identity, institutional design, annual reports, display and interpretive center design as well as print and web design. As stock illustrator with TheImageBank.com (now GettyImages.com), Michael's illustration work has been used all over the world for such clients as British Airways Magazine, Kelley Services, Macmillan McGraw-Hill publishers and Business Week. He is fluent in many illustration styles and in virtually every medium: oil, acrylic, pastel, pen and ink, watercolor, as well as the digital media Adobe Illustrator and Photoshop. Michael is also a writer of fiction, novels, middle grade, chapter books and picture books, plus non-fiction including the two books mentioned on the home page.
Michael has been a popular speaker for youth conferences and groups as well as a guest lecturer and presenter for adult audiences on a range of topics including those embodied in "Success In The Arts: What It Takes to Make It in Creative Fields" and his newest book, "Logo Theory: How Branding Design Really Works." The principles that Michael teaches in his "Success in the Arts" presentations apply equally to all of the arts. Michael's presentations on Logo Theory are all build on powerful visuals and humorous commen